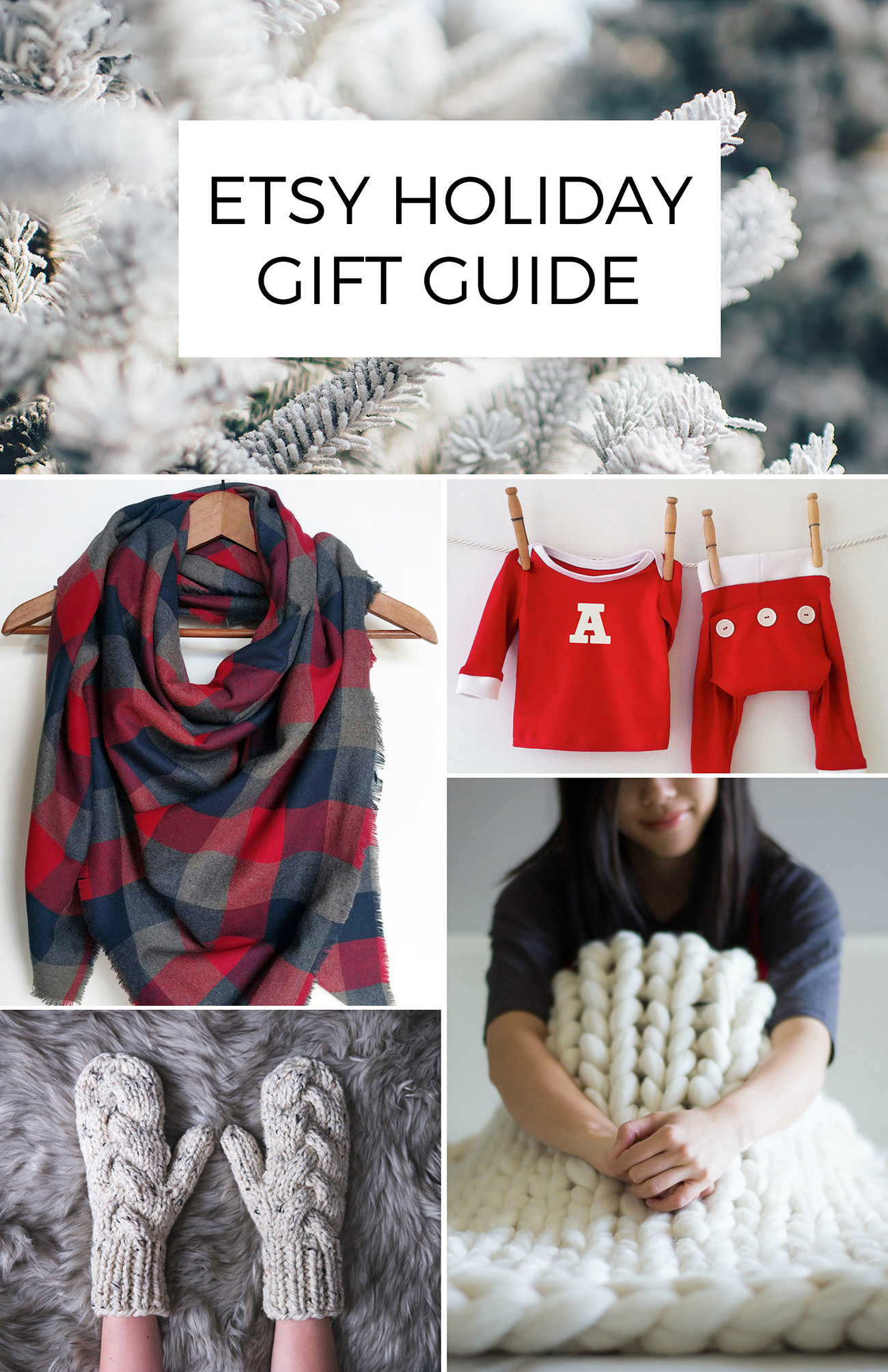 A couple years ago I did a gift guide for photographers, this year I thought I'd highlight some of my favourite gift ideas found on Etsy. The place where an hour of shopping feels like five minutes to me. ;) It conveniently combines shopping at local or small businesses while not having to leave the house for those of us allergic to crowds! There are so many ideas for those that are hard to shop for and an abundance of customization options. I featured many items from Canadian sellers. I hope you find some inspiration for your Christmas shopping!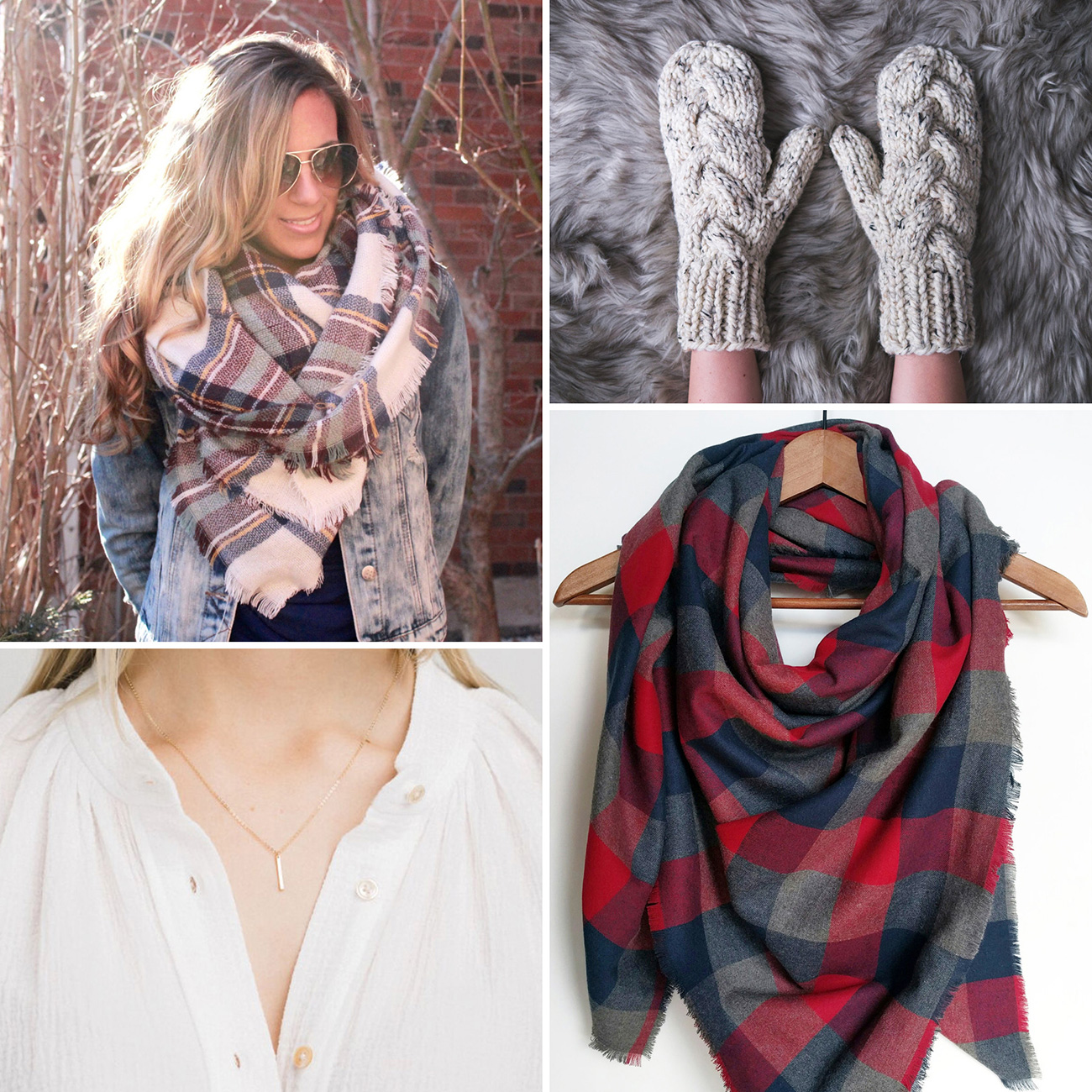 1. Plaid Blanket Scarf – This cozy wool-blend scarf comes from a Toronto shop with 35 styles available.
2. Chunky Cable Mittens – Handknit chunky mittens to keep you extra warm. Made in Toronto.
3. Dainty Bar Necklace A gold-filled necklace for the minimalist and easily layered.
4. Cotton Blanket Scarf – For those looking for a soft scarf but not overly fluffy.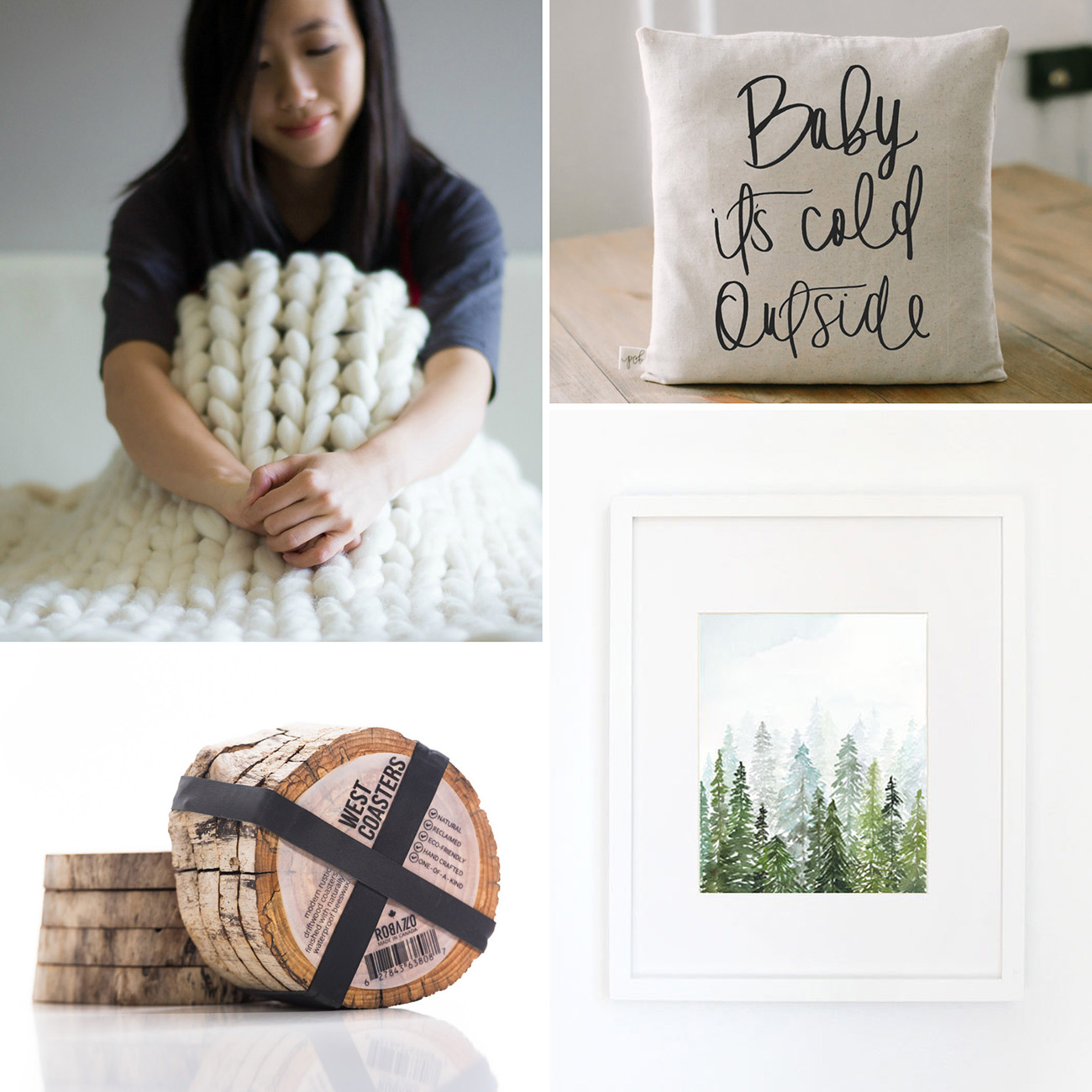 1. Chunky Knit Blanket – I just want to wrap myself up in this and read for hours! Canadian-made with 100% Merino Wool.
2. Throw Pillow – A natural cotton throw pillow that would make a lovely accent with a blanket.
3. Driftwood Coasters – Bring the outdoors inside with these coasters handmade from Canada's West Coast in Victoria, BC.
4. Evergreen Print – A watercolour print to fill a gallery wall. Yao Cheng has many floral prints too.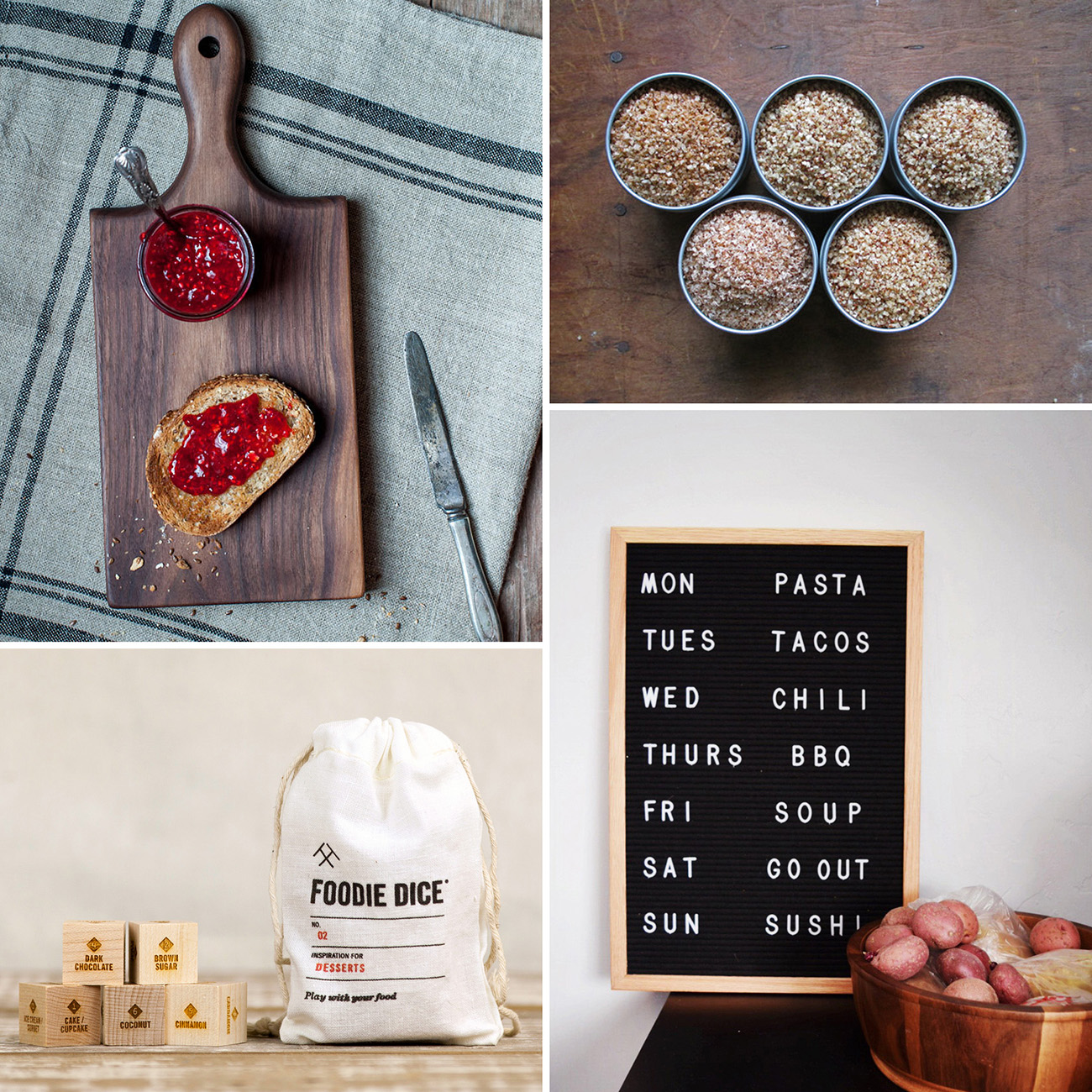 1. Serving Board – Canadian-made walnut serving board for the host. Customize it with engraving.
2. Gourmet Sea Salt – Something for the chef to play with. Hot pepper infused salts with natural flavours made in Delta, BC.
3. Foodie Dice – A fun gift for a foodie. Create new recipes inspired by your roll.
4. Letter Board – A creative way to display a menu or an entrance greeting or for the kids to play with.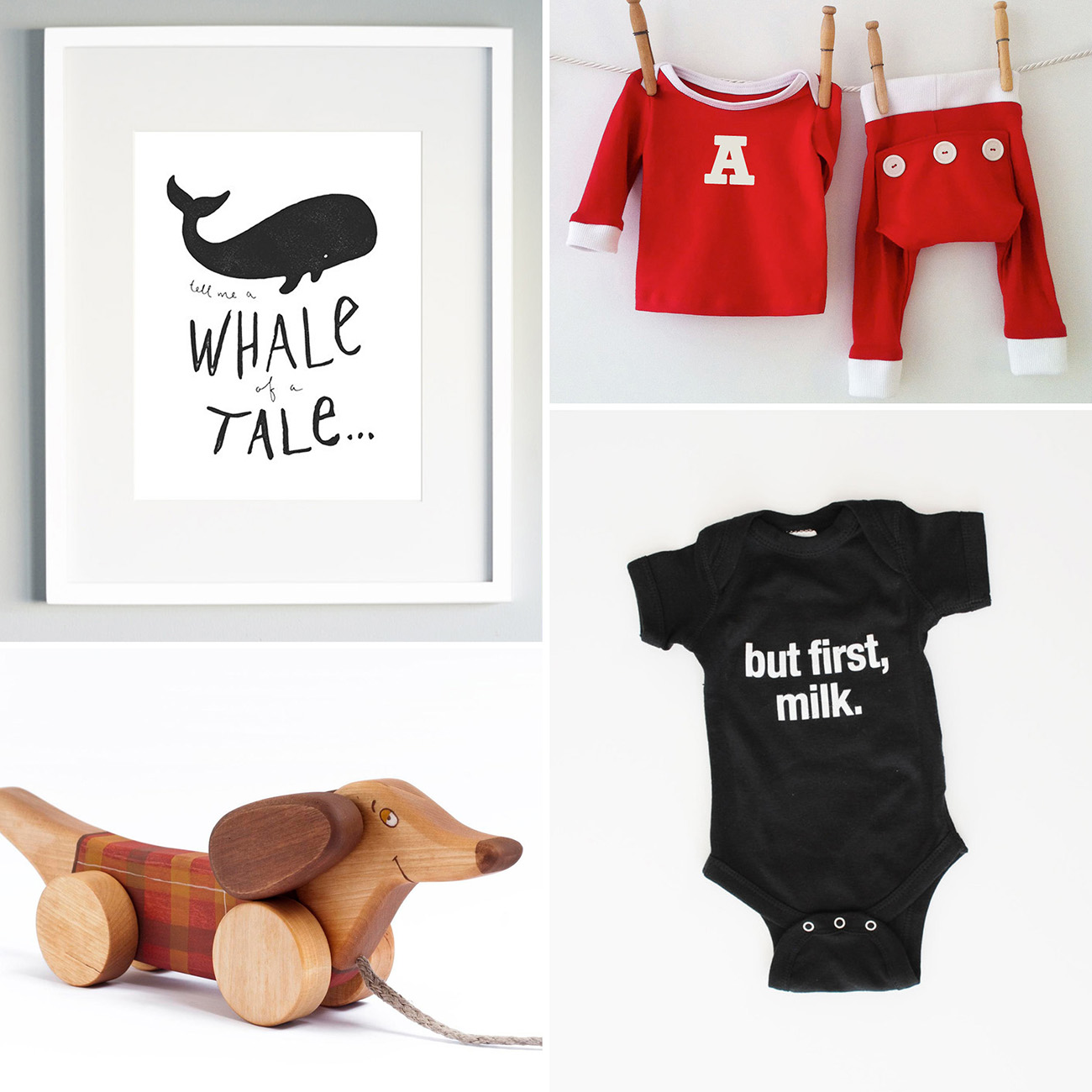 1. Nursery Print – A sweet print that matches any colour scheme. Illustrated by Laura Vanderwel in Abbotsford, BC.
2. Christmas PJs – Adorable for a baby's first Christmas and available up to size 4. Made in Vancouver, BC.
3. Wooden Toy – An old-fashioned pull-dog toy that you can customize with a painted name.
4. Milk Onesie – A childish spin on the fun, "But first, coffee." Also available in a t-shirt.
Be sure to have a peek at the Etsy Editor's Picks page to help you quickly browse the many categories from Gifts for Him Under $30 to Gifts for Pets. And why yes, I did contemplate a post dedicated to crazy cat ladies. One day!
*Post contains affiliate links.