Here it is! I can hardly believe it. I am so thrilled to share with you a completely fresh new look. This has been a long process. I know so many of you heard me say I'm re-branding and working on a new website for probably the past two years. If you know me, I'm a perfectionist and have a tendency to over-analyze every last detail, so major props to my designers for putting up with me ;)
The talented Ryan at Second Street Creative nailed my new logo. I wanted something rustic and vintage inspired while appearing approachable. I'm delighted to have a true custom blogsite now with a separate homepage, portfolio and blog that reflect my brand. The creative mastermind behind the new site is designer (and photographer), Krista A. Jones. I'm just in love with all the nature inspired elements she designed and how she overall, made the the site a cozier place.  Thank you both so much for your incredible work! I also have to give a shout out to William at Flaunt Your Site for helping with a few technicalities and all the friends and family I tormented with helping me make decisions (you know who you are).
GIVEAWAY
To celebrate, I'm doing a little giveaway! While spring may be around the corner, we still have lots of time to sip away hot drinks. For my fellow tea lovers, a $50 DavidsTea gift card, or if coffee is your thing, a $50 Starbucks gift card. Winner takes their pick.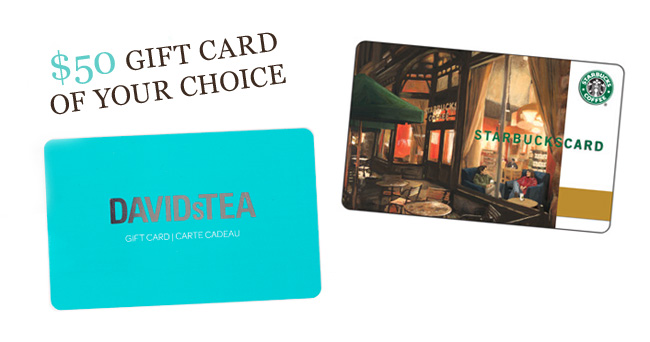 How to Enter:
Leave me a blog comment about anything really. What you think of the fresh look, how much you love tea, or what you'd like to see me write about. Your comment must be through the blog comment section (leave your name and email so I can contact you if you win), Facebook regulations do not allow Facebook comments for contest entries.
*Make sure to submit your entry in the box below after commenting (and also check out a few other ways to get bonus entries).
a Rafflecopter giveaway

Giveaway ends March 1, 2013 at 12:00am Pacific time. Open to residents worldwide. Winner will be randomly selected and notified by email. Winner will have 48 hours to respond before a new winner is chosen. DavidsTea, Starbucks, Facebook and Twitter are in no way associated with this giveaway. I do not share or sell information and will use any information only for the purpose of contacting the winner.