Runaway fast if you are not a cat person, this post is going to reveal just how much of a crazy cat lady I am. In May, I mentioned on my birthday blog post that we are getting a Radgoll cat. I've been living without a cat for about ten months now, since moving out of my parent's place and leaving our sweet fourteen year old family cat (Tiger) with them. I needed someone to keep me company around the house and in the home office while I work.
After much research, we decided on a Ragdoll for their calm temperament and affectionate personality. Plus, I have loved blue eyed white cats since I was born. I decided to listen to our cat-loving pastor's advice and save the wild bengal cat for down the road when we are retired and need a bundle of energy. Either that or I will be a LAPS kitten foster extraordinaire. ;)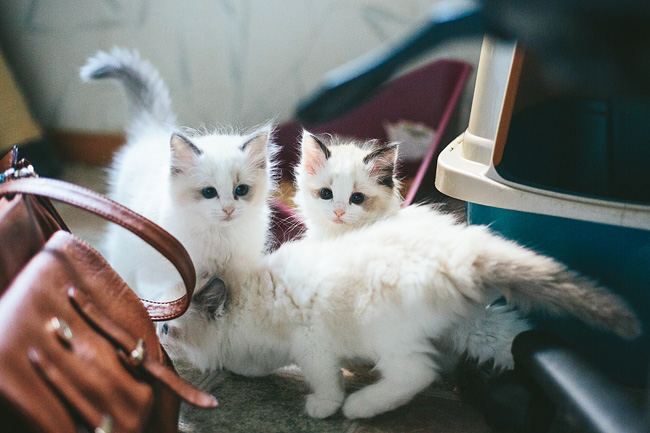 So next we researched and contacted a couple Ragdoll breeders. It was very important to us that the cat was healthy, raised in a great home and well socialized. We chose a small home cattery, Hug-a-Ragdoll, who are TICA registered, based in Coquitlam, BC.
I loved reading about each of their cats on their website and I was especially fond of their cat, Bella Rina, for her adorable face and vivid blue eyes. Turns out I had sent an inquiry at the perfect time as Bella Rina was pregnant and due at the end of April. They only breed each mom once a year – this is not a kitten factory! This is also her first litter.
She was so friendly when we visited she jumped straight into Mat's lap.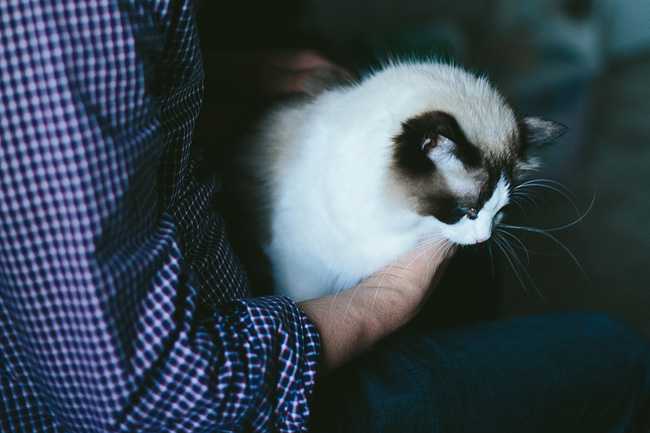 I really appreciated that Alex, the breeder, actually responded to my questions instead of giving a general copy paste response with info. She told me straight up the colours of ragdolls that she didn't breed and the reasons why (past experience in breeding them, non-ragdoll like behaviour). It meant a lot that she took the time to educate me on why she breeds the ones she does versus a snobby response. In March, we put a deposit down on a female bi-colour which did feel a little strange considering it wasn't even born yet!
Now our kitten has quite the special story. A few days after the kittens were born we were emailed photos to choose. The girls were not bi-colour and all show quality, so we decided to pick from the boys instead of waiting for another litter (I really wanted one of Bella Rina's kittens). Of course, I was being my undecided self and the decision was made for me as there were two unchosen kittens left, one was Mat's favourite so I went with that one, even though he looked like the runt of the litter.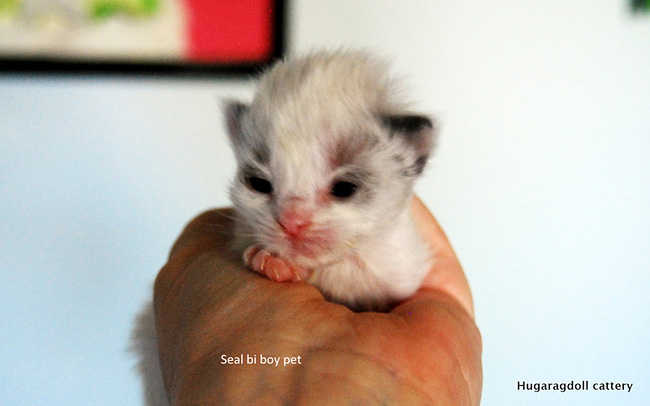 We found out he was so small because he was born two weeks premature, as his mother conceived at two different times (this explains why cats can have such large litters). He weighed a record mere 51 grams which is the smallest pre-mature kitten Alex has ever had and it is rare for them to survive. For reference, a full-term newborn kitten weighs 91-105 grams, anything lower than 87 grams is considered a low birth weight in kittens. Live premature kittens can weigh as little 57 grams, although rarely survive. She said he was truly a miracle.
Alex bottle-fed him and said he was a true fighter and a little feisty as he insisted on eating with his siblings. The rule for feeding preemies is 1 ml of liquid every hour. Alex set her alarm for the hour so she could feed him though he wasn't gaining the weight she hoped. At a friends suggestion, she cut an old bottle and filled it with milk. He guzzled that and then started to gain his weight. Here he is looking much healthier at almost 3 weeks.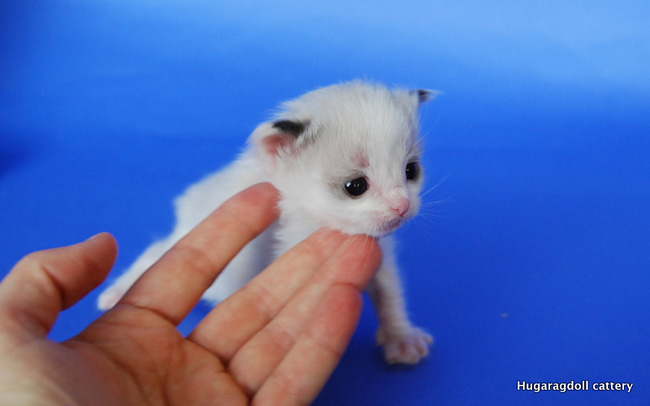 Alex sent us regular photos and updates. This is my favourite photo she sent at about eight weeks.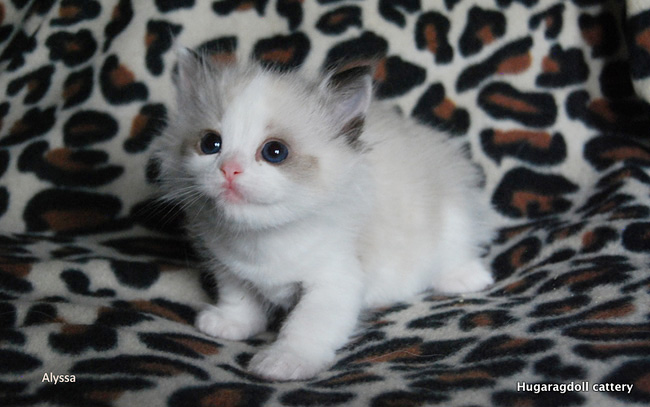 We got to meet him for the first time at the beginning of July at 9 weeks after their second shots. I took a few photos.. I didn't want to start off the relationship as being the tormenting photographer. Just last week we decided on the name "Asher" as it means lucky, blessed and happy. Now here comes the twist…
Asher is twelve weeks now and was supposed to be neutered yesterday. However, I got a call last night from Alex and she told me the vet did not go through with the operation because HE TURNED OUT TO BE A SHE. Oh my goodness I was speechless and couldn't stop laughing haha. Alex felt terrible as this never happens and was overly accommodating if we were set on a boy, but no way was I letting go of the sweet kitten that was my phone background for the past three months. Plus – I originally wanted a female cat. I'm only a little sad I can no longer order an adorable bow tie collar for her ;) We decided to keep the name since it is a funny story. Since her spay appointment is now next week, Alex is being wonderful and letting us take her home TODAY and we will return her next week for her spay.
PS. A website for Asher is in the works so that this blog doesn't become hijacked with kitten photos. She is on Facebook and  Instagram too.