As promised, here's the second and last blog post about our wedding that we planned in 3.5 months. You can read the first post about our wedding here and our 7 weeks of dating story here (might be helpful for all the cheesecake references).
We chose Eighteen Pastures as our venue because we wanted something tucked away, a little rustic feeling, but not too country. The surrounding forest gave the natural forest feeling that reminded me of Golden Ears (our first official date). The clubhouse looks like a red barn and is surrounded by evergreens. I also loved the smell, the fresh trees mixed with a firewood aroma. The venue was great and gave us free reigns over decorating.
With the goal of an outdoor wedding ceremony and a sketchy weather forecast, we set aside one of the rooms inside as a backup. We were blessed with a beautiful sunny and even warm fall day! We held the ceremony on the practice putting green surrounded by tall trees (Mat loved this as a golfer though it was not really a true green).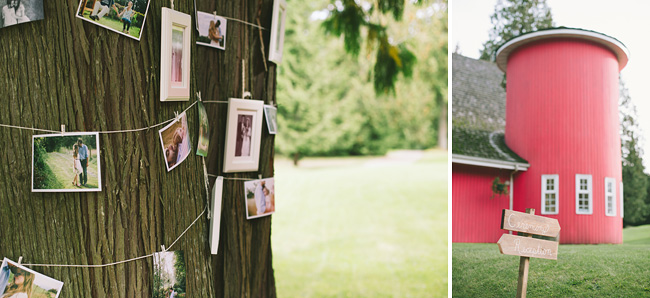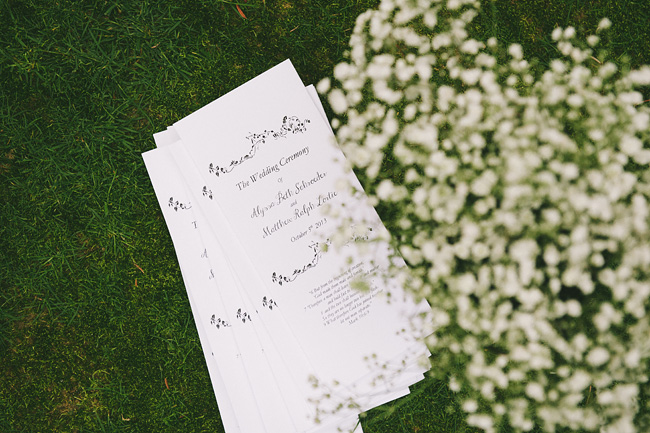 We had a small guest list consisting of our families and our close friends. We really wanted an intimate celebration, even though it was difficult to narrow down our guest list.  In regard to the planning, Mat was most excited about planning the ceremony, so he planned most of it. Before we were even engaged, we had the officiant picked (Andy Steiger). Well it is more accurate to say he picked us. He likes to think that he is responsible for our relationship, so he demanded to be allowed to marry us. Since this is what we both wanted anyway, we obliged ;)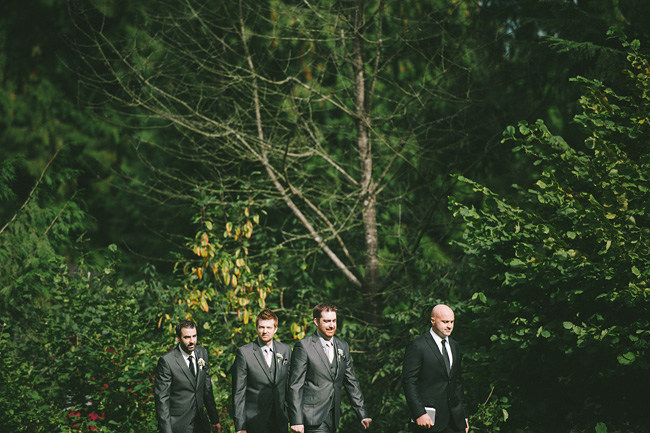 I also became an aunt with SEVEN nieces and nephews on this day. I was so happy to have four of them in our bridal party.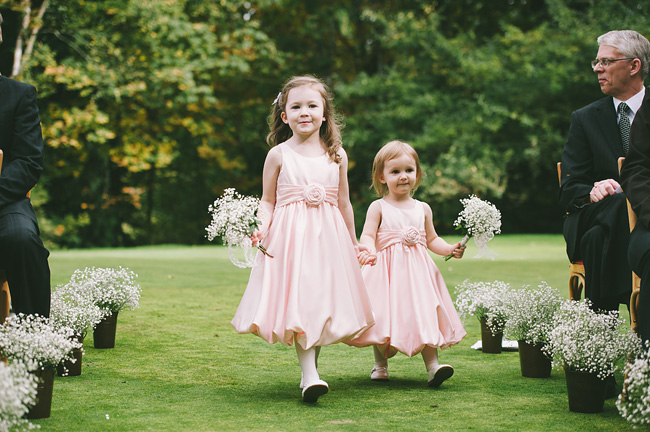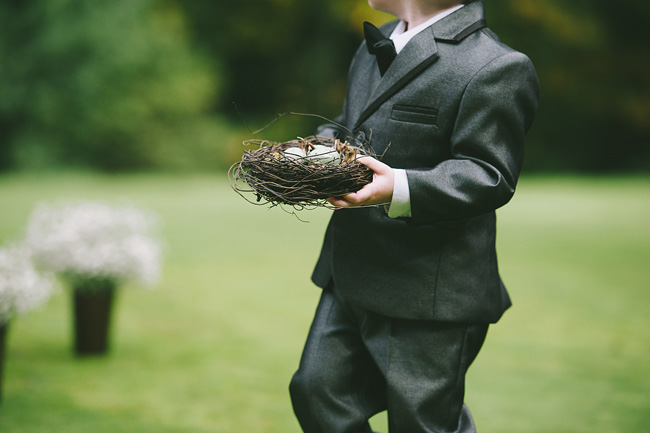 Mat was hoping his grandfather would be able to make it out from Ontario to play at the wedding. Unfortunately, he was unable to, but recorded some traditional hymns to be played prior to the ceremony. It was challenging to pick the music for the processional. We picked Arwen's Vigil by the Piano Guys for the men and the Forrest Gump Suite for the ladies.  I knew for a while that I wanted to walk down the aisle to something by my favourite composer, Hans Zimmer. We eventually decided on Tennessee (from Pearl Harbour.. probably the only good thing in that movie). My Aunt Ruby made all the signs placed around the venue :)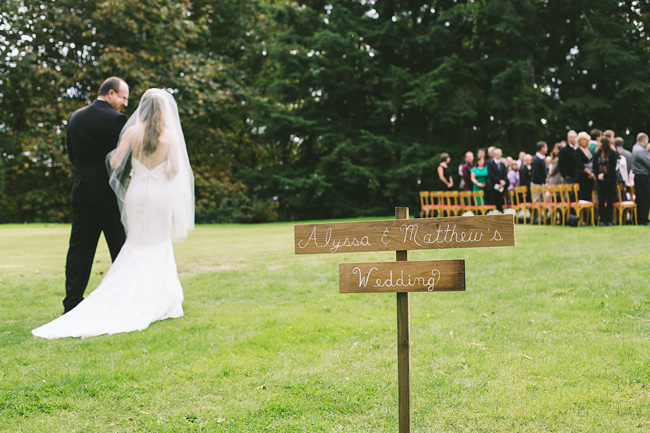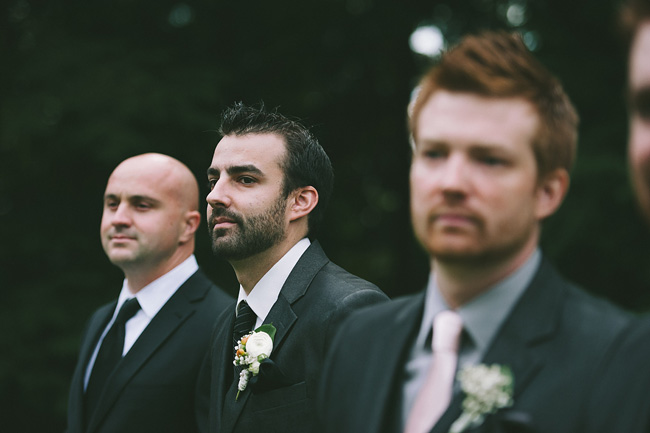 I was not actually planning to wear a veil until Mat told me he envisioned himself lifting it at the end of the aisle. He left the choice to me and I hesitated a bit since I wasn't a huge fan of veils over the face (paranoid of big poofy veil over face). I wanted to give him his vision though so chose a simple two-tier veil. I ordered it from Cassandra Silvestro (a Toronto Etsy shop) and they even customized the length for me. I wore it for the ceremony and a few photos afterward.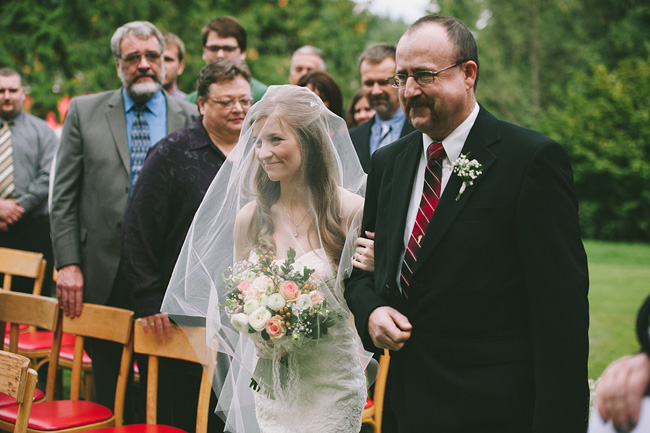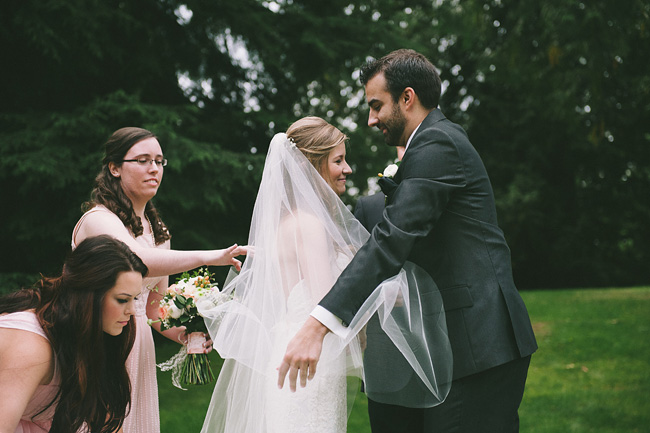 Mat picked the Bible readings and chose Song of Solomon 4:7-15 and 5:10-16 read by his brother and sister. He also wanted Ephesians 5 read so Andy incorporated it into his homily "Students of Love."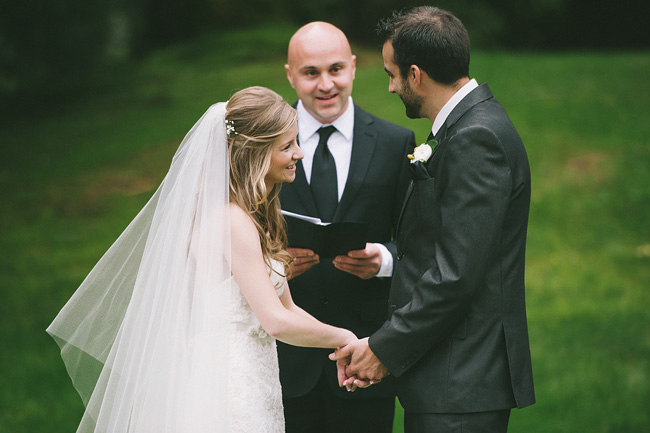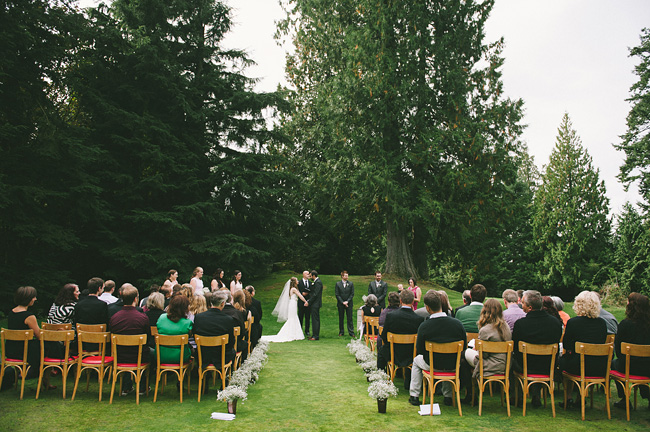 We wanted to have vows personal to us but not completely untraditional. We ended up using Mat's parents' vows and altering them slightly. We had written more personal vows in letters to each other and exchanged them saying goodbye the night before the wedding. What I gave him included a bundle of letters I wrote growing up.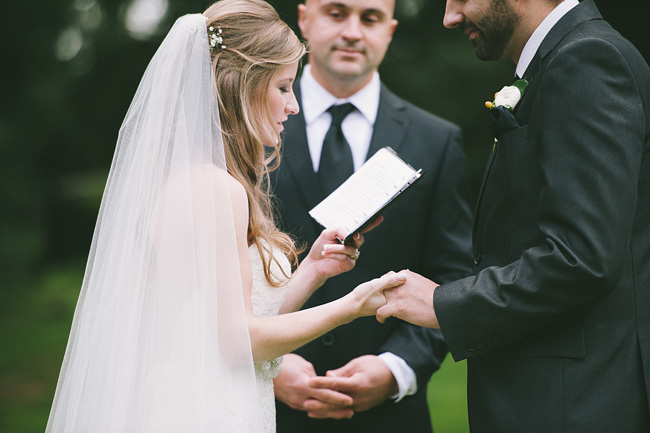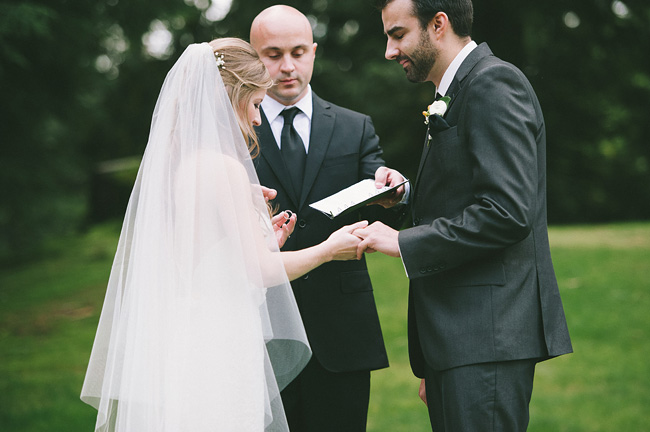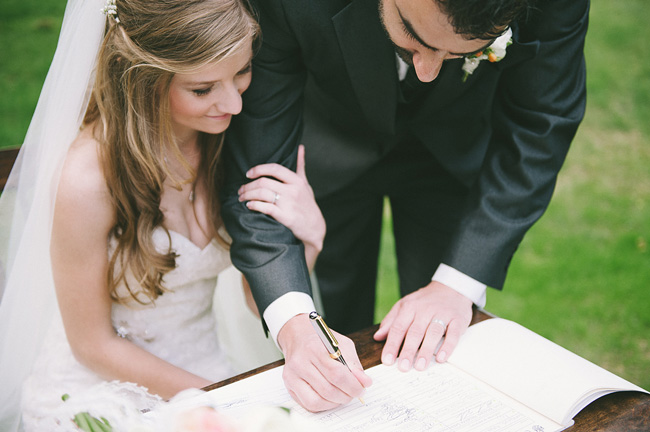 Mat is a sentimental softie and liked the idea of connecting things in our wedding to our families and church traditions (what do you expect from a theology graduate). This is one of the reasons we did communion in the ceremony. It is an act of unity with one another, the church at large and with Christ himself.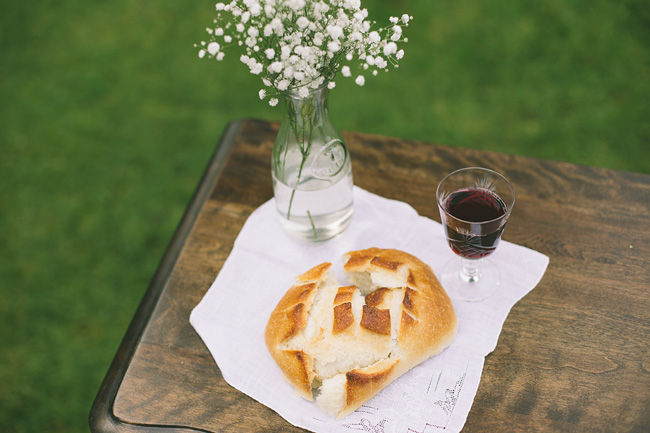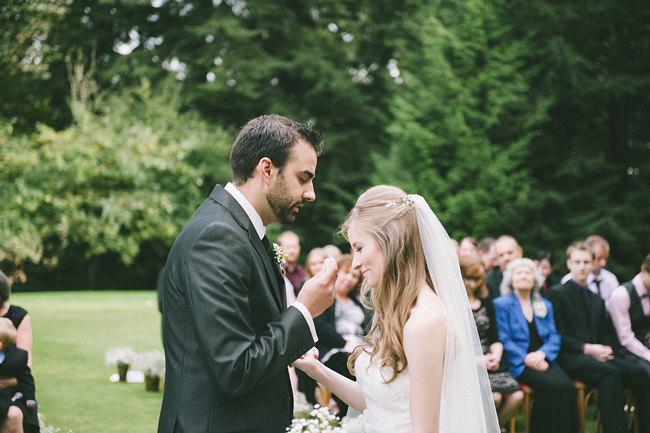 After I heard my name, "Mrs. Lortie" for the first time, we left with the song Holy (Wedding Day) by The City Harmonic.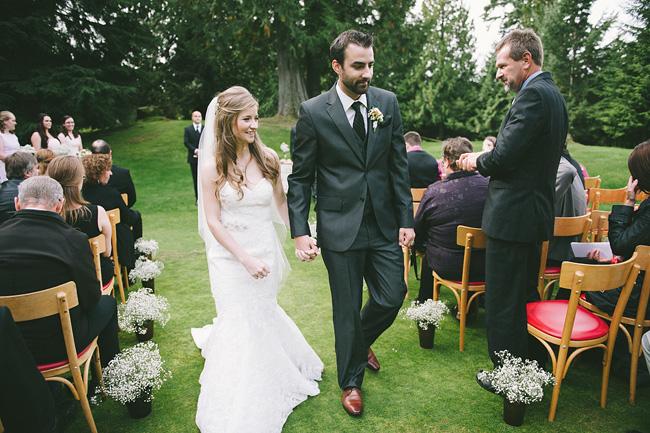 We did the family and bridal party portraits after the ceremony, along with more of us. We had a photobooth for our guests to entertain themselves, though it wasn't as used as we had hoped since there was a misunderstanding with our volunteer photographer ;)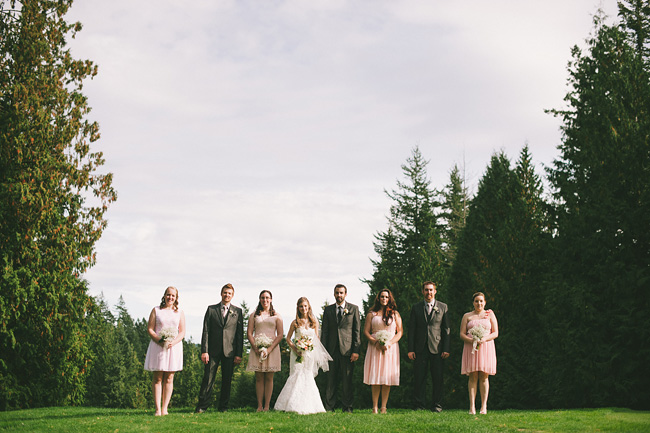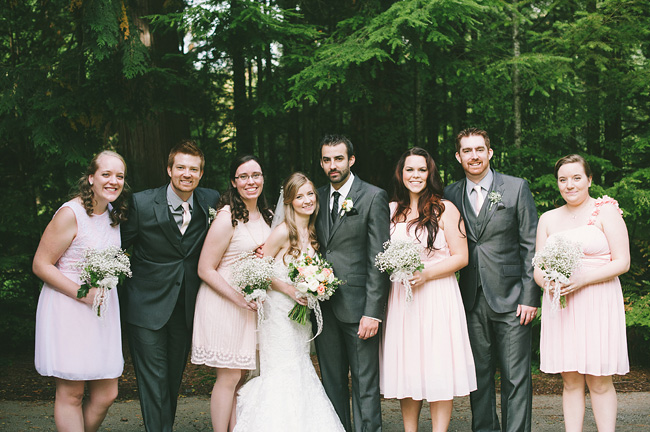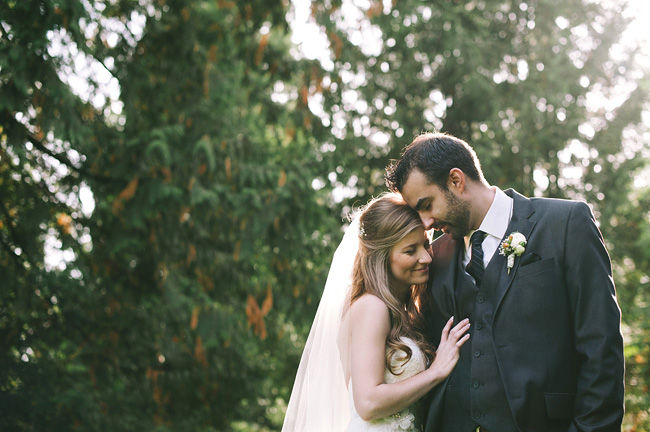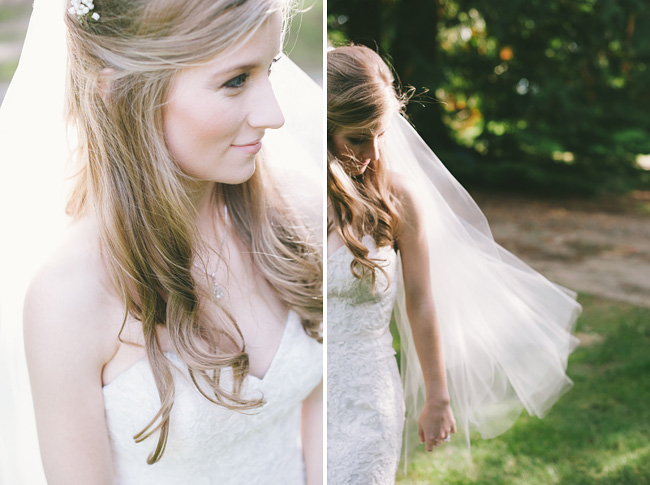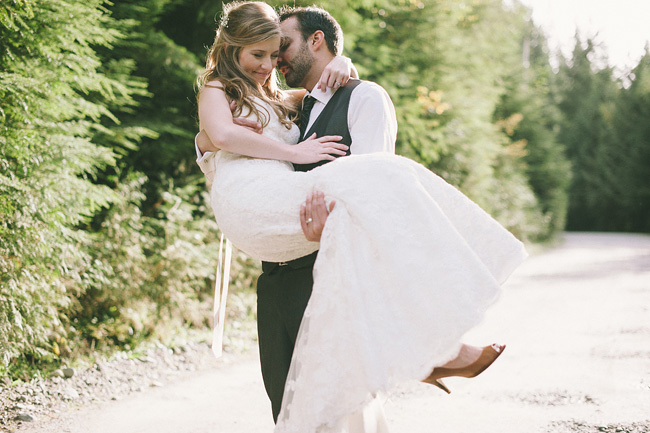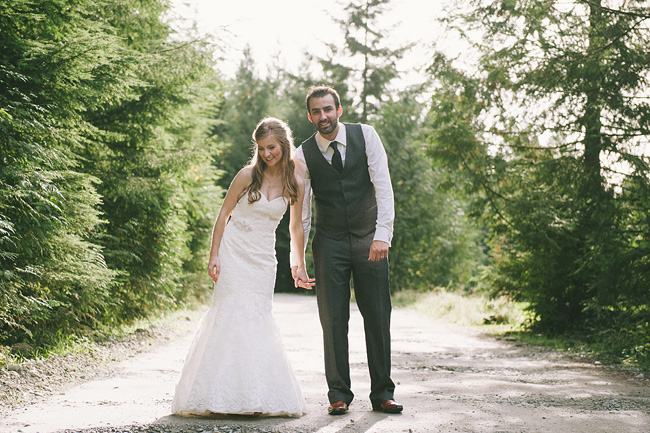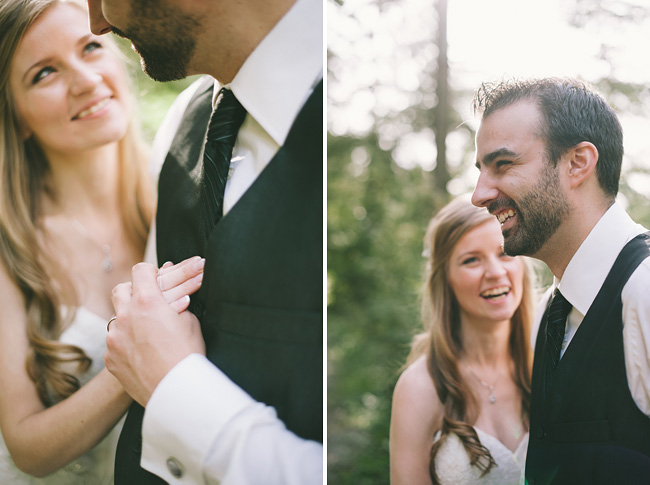 My bouquet by the wonderful Barb at Blooms & Beyond. She went out of her way to ensure I had some ranunculus ordered from afar (Holland or California).
Now onto our reception, it was fairly simple, held indoors in the smaller room at the venue. I love the look of decorated long tables. It gives a nice family dinner feel too I think.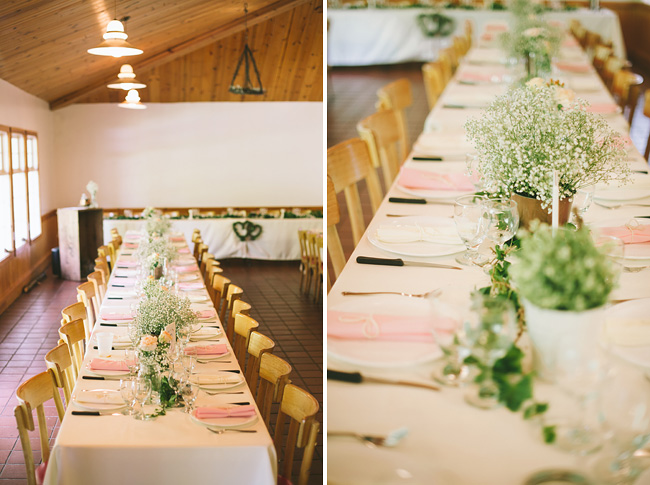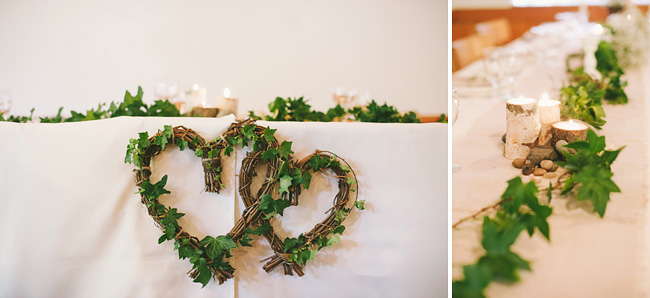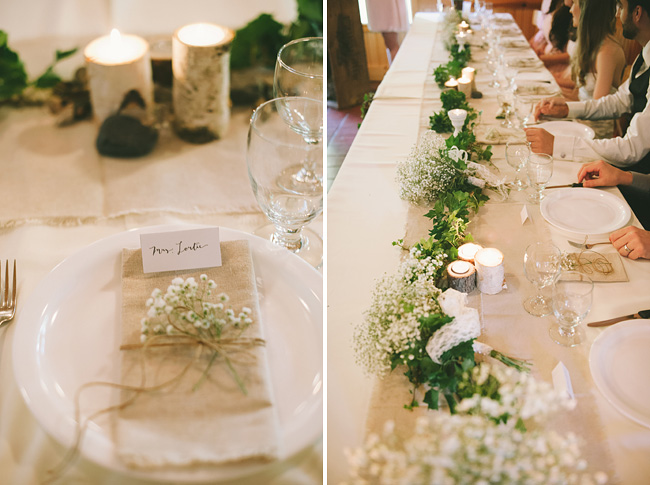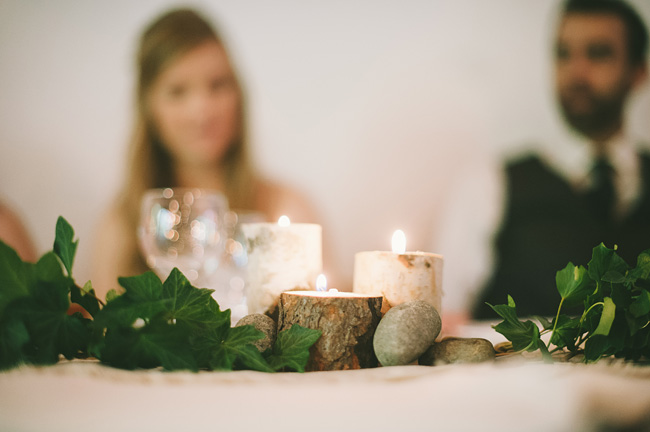 Almost every week I shopped with my very patient mom for vintage jars, vases and trays from the various MCC locations in Abbotsford. Seriously, the MCC is the best bang for your buck. Each item $1.00 or less typically. I also purchased all my large wooden frames there for about $2.00 each and I'm planning to re-use them in our home. The best thing is the money goes to charity :) There were a few items purchased from IKEA and Save-on-Crafts (warning: this is almost as dangerous as Etsy). We ordered baby's breath ourselves but ran out for the reception tables, so we ended up re-using the brass pots that lined the ceremony aisle. Mat and I picked up a couple larger rocks on the head table from the river at Golden Ears. I recall making him carry a large piece of driftwood back to the car as well… but not sure where I used it at the wedding…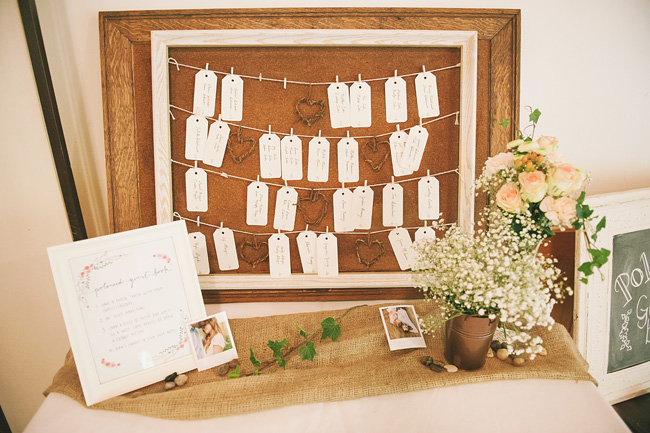 We did guest polaroids along with advice cards in place of a guest book. It was so fun to have a bunch of photos of everyone to look at right away. Thanks to Jacqueline and Arielle for taking the photos!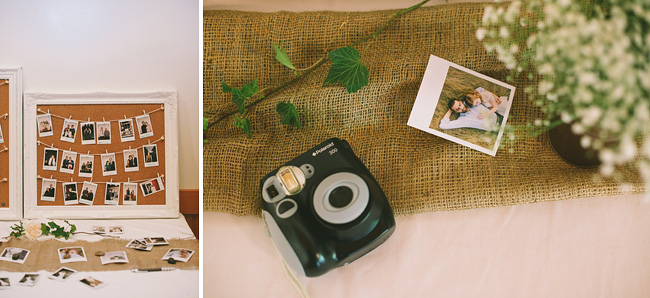 I'm so grateful for both sides of the family helping set up the day before. I remember seeing Leona, my then future sister-in-law (who I had just met), slaving away ironing all the table linens with my to be mother-in-law. Not to mention members of the bridal party as well as my friend, Jacqueline who has a great eye for detail. I was able to spend the morning and afternoon of the day before with my maid of honour who had just flew in from Ontario catching up and getting our nails done. A huge huge thanks to my mom for assisting in all the decor shopping and helping with so many of the DIY projects.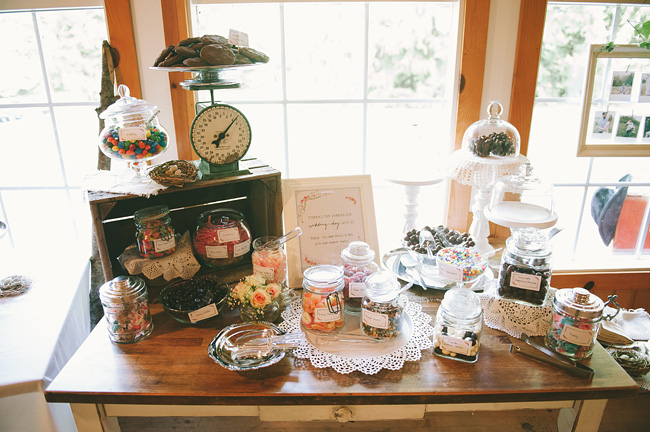 Mat will say I spent a disproportionate amount of time on the candy dessert buffet table. He is correct. I'm obsessed with styled candy dessert tables. Oh. and I guess I have a sweet tooth too. It also functioned as our favour to guests with hand stamped linen bags. The candy is mostly from Sticky's Candy (they give discounts for large orders). The vintage scale, crate and dessert stands are from Burlap & Lace Vintage Rentals. The wooden desk from the ceremony (and cake cutting) is also from them and Gen so kindly delivered everything too.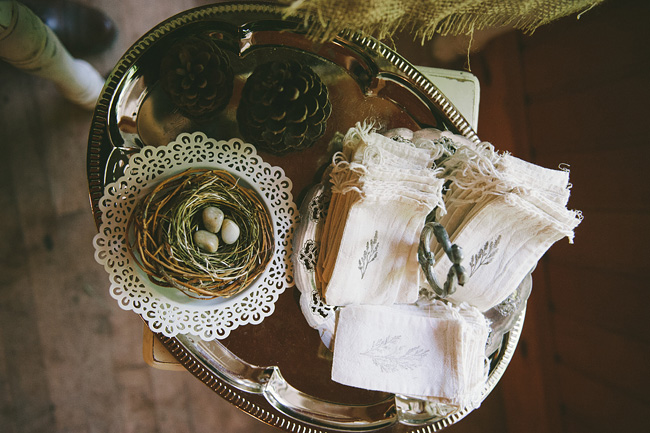 I loved the idea of having a couple family involved in bringing desserts (I stole this idea from my past bride, Jami). Mat's mom baked us raspberry tarts, raspberry trifle and a chocolate cheesecake for our wedding cake. We have a history with chocolate cheesecake ;) I ordered vintage Mr. & Mrs. forks hand-stamped with our wedding date to eat with! I planned to eat with them each anniversary… though this year I found them late and the silver needed some major shining! My grandma made us her amazing chewy chocolate chocolate chip cookies (and I am so glad she shared her recipe with me.. I just made them two days ago). Another past bride, Ann, also made our cupcakes. Some of them filled with cheesecake of course.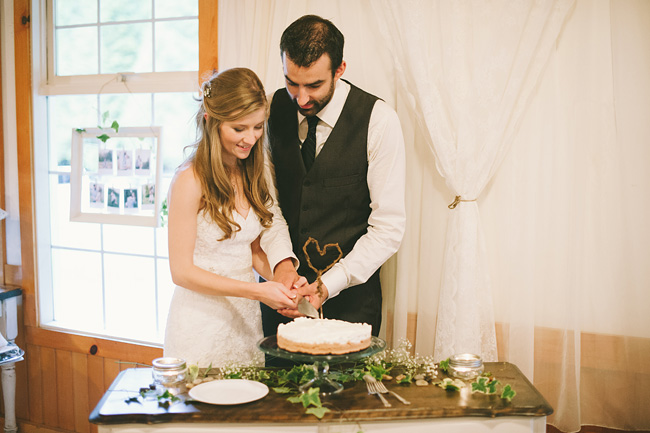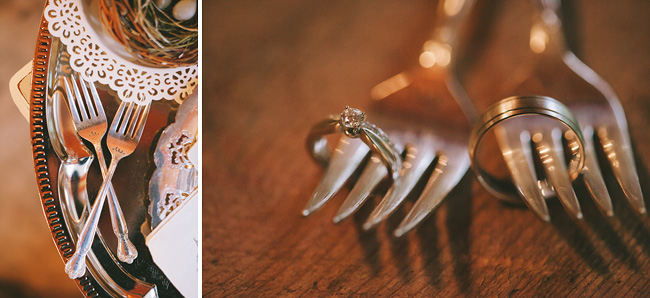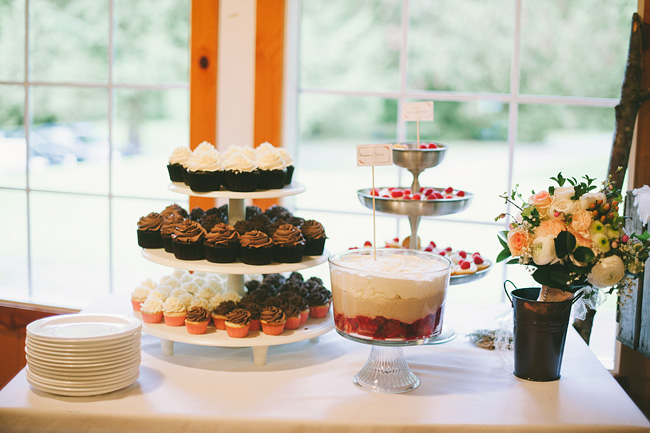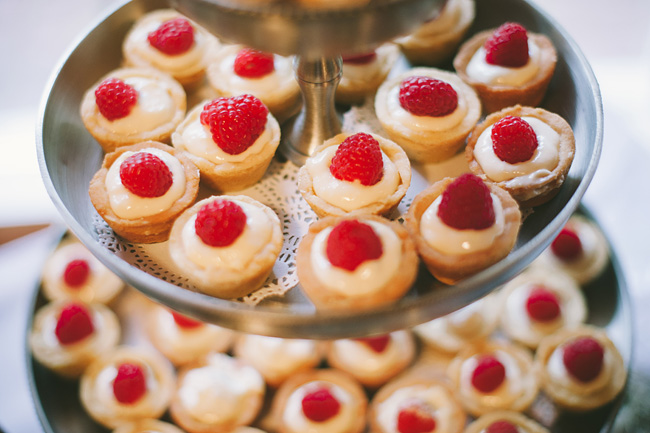 My brother, Adam and bridesmaid, Hannah were our hilarious MCs and they made sure to poke fun at Mat's terrible Edmonton Oilers ;)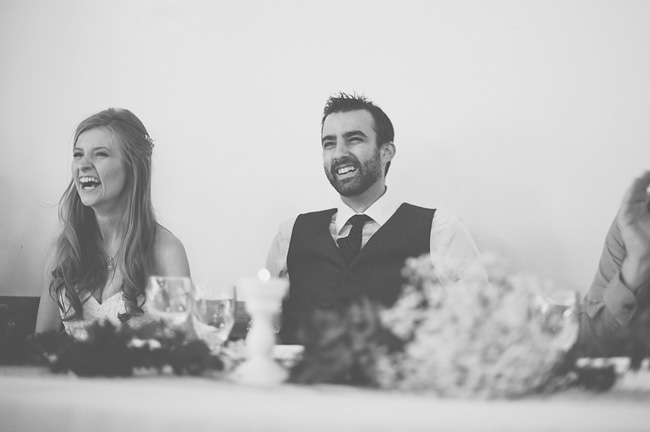 We did the shoe game with our parents as well. I think it added some entertainment to a classic ;)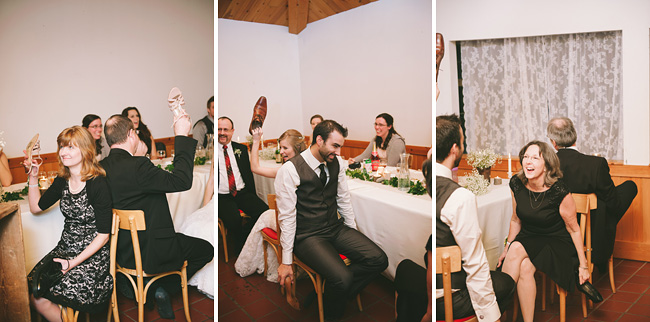 We wrapped up the night with a slideshow that Mat's sister, Allison made for us. It was cute to have some flowergirls and a ringbearer join us :)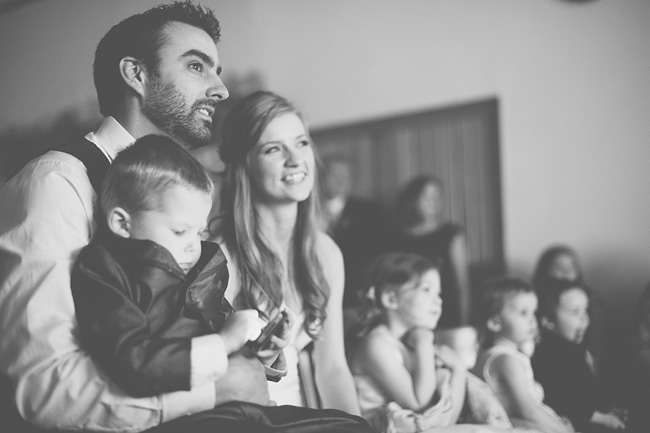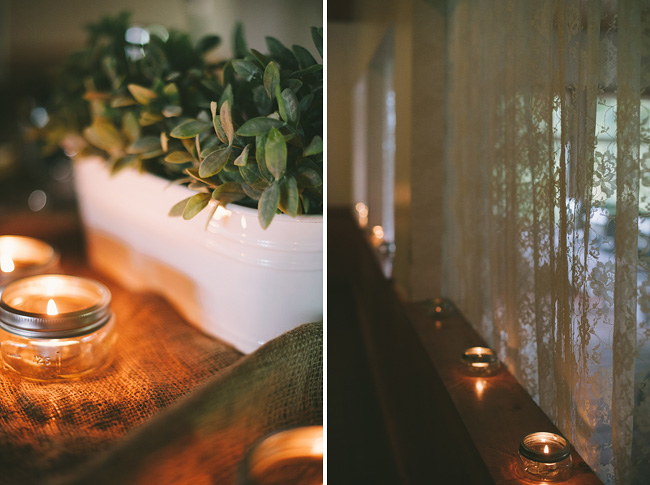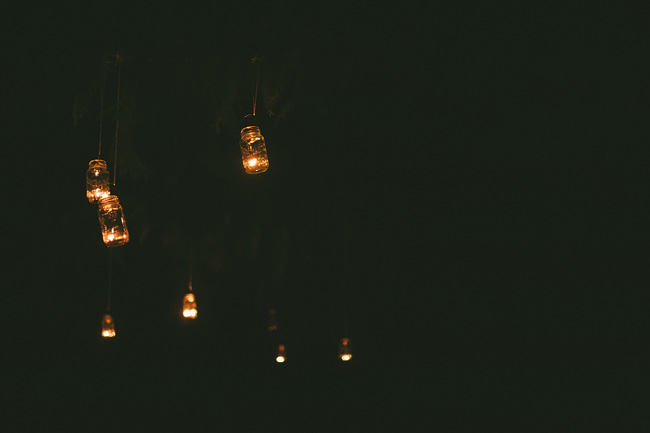 Dress Designer: Mori Lee (Champagne & Lace) // Ceremony & Reception: Eighteen Pastures  Mission, BC // Bride's Hair & Makeup Artist: Crystal Adrian // Florist: Blooms & Beyond // Photographer: Sharalee Prang